Every family has its own Independence Day recipes and traditions, young and old alike. For me, food has always been the most exciting part of this holiday because it was one of the few days out of the year that my mom actually used the stove to cook! Holidays offer the perfect opportunity to switch things up and try something new, or even return to a crowd-favorite dish that's been forgotten about for the past few years.
This Fourth of July, I officially challenge you to go the extra creative mile with your Independence Day recipes. (But if you really want facts or quizzes, we have those from previous years, too!)
Don't stress – I haven't left you to the wolves. In honor of the holiday, I've compiled a list of recipes that are simple enough for a cooking novice and interesting enough for an expert! Try all four, or just one or two.
Feel free to switch up the ingredients to match your children's picky tastes. They may be even more excited to try new foods if you invite them to help you cook. (Check out our post for some tips on how to build basic cooking skills for every age!) With bright colors and appetizing ingredients, these picks are sure to please the whole bunch of you!
Expert tip: Place each dish on colorful plates to make kids more attracted to new foods.
Independence Day Recipes: Appetizer
The Abraham Lincoln Appetizer – Not Your Cliché Deviled Eggs
Check out Diane's original recipe by clicking the picture!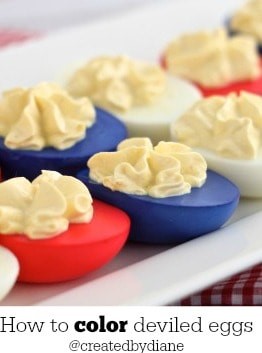 Ingredients (for a total of 12 eggs):
6 eggs
2 tbsp of vinegar
1 cup of water
Food coloring [red and blue, of course]
¼ cup of mayonnaise
1 tbsp mustard
Salt & pepper
Paprika [Chef's Choice: Brave soldiers may opt for stronger spice!]                                                           
Instructions:
Hard boil eggs.
Peel the eggshells and slice eggs into half, long way.
Scoop out the yolk with spoon, carefully as not to tear the egg. Set aside.
Rinse the eggs to remove any excess yolk residue and set aside
In a small- to medium-sized bowl, add 1 tbsp of vinegar and ½ cup water. Mix. Repeat this step in a second bowl.
In one bowl, add drops of red food coloring until desired color is reached. Repeat for the second bowl but with blue food coloring.
Place 4 halves of eggs into the first bowl and 4 halves of eggs into the second bowl to soak up the color. Once the eggs are the desired color, remove the eggs from the bowl and set aside to dry. Leave the other 4 halves uncolored.
Crumble yolks in a medium bowl and mix thoroughly with mayonnaise, mustard, salt, and pepper.
Use spoon to move yolk batter into Ziploc bag (or equivalent) and cut a hole in one corner of the bag to create a pastry pipe. Squeeze the yolk batter evenly into the eggs.
Sprinkle desired amount of paprika on top of the eggs.
Bon appetit!
Independence Day Recipes: Entrée
The Eisenhower Entrée – The Classic American Hot Dog… With a Twist!
Combine three fan favorites to make a patriotic, filling dish!


Ingredients (serves eight hot dogs):
1 can of refrigerated crescent roll, bread, or pretzel dough
8 uncooked hot dogs
8 slices of your cheese of choice [Tip: Cut them thick!]
8 skewers
Star-shaped cookie cutter (optional)
Instructions:
Stick skewers halfway into hot dogs, leaving about 1-2 inches of the stick showing at the top to leave room for cheese!
Wrap/twist a piece of dough around the hot dog until you reach the top.
Place the wrapped dogs on a non-stick pan or on parchment paper.
Bake in the oven according to instructions on the dough.
Cut out 8 star-shapes in the cheese using a cookie cutter or knife.
Once wrapped dogs have completed baking and have cooled, attach the cheese star to the skewer sticking out of the top of the dog.
Stick the remaining skewers into the opposite end of the dogs that the stars are on.
Enjoy!
Independence Day Recipes: Dessert
The William Howard Taft – A Short and Sweet Dessert
This easy, quick dessert is sure to be a dessert that everyone will remember!
Ingredients (serves around 8 shortcakes):
1 pack of shortcakes (store-bought)
1 pack of strawberries
1 can of whipped cream
Instructions:
Spray thin layer of whipped cream directly into shortcakes.
Slice strawberries into fourths and distribute evenly into shortcakes.
Spray whipped cream on top to reach desired height.
No regrets – it's fruit!
Independence Day Recipes: Bonus Drink!
The John Adams Jell-O Slushy
Click on the picture to see the original recipe from Jamie!
Ingredients:
1 pack of Jell-O (flavor of your choice)
1 cup of boiling water
1 2 tbsp fresh lemon juice
1 cup juice or soda
Instructions:
Combine boiling water with Jell-O and mix until Jell-O is completely dissolved.
Mix in lemon juice and juice/soda.
Pour into a baking dish and place in freezer for around three hours or until solidified.
Remove from freezer to thaw for five minutes before serving with a spoon or ice cream scoop.
Add a bit more of the chosen juice/soda in the final glass.
Voila!
What did you think of these recipes? Do you have any other suggestions that you wish to share with fellow A Grade Ahead parents?
If you try a recipe, be sure to share in the comments below! And on behalf of all of us at A Grade Ahead… Happy Independence Day!
Author: Morgan Leopold, Curriculum Writer at A Grade Ahead
---
Get Notified When New Articles Post
Sign up to receive one email per week from A Grade Ahead full of parenting tips and helpful articles. Enter your information on the right hand side of our Blog page and we will add you to our list of subscribers. We also welcome your feedback and comments on our posts!