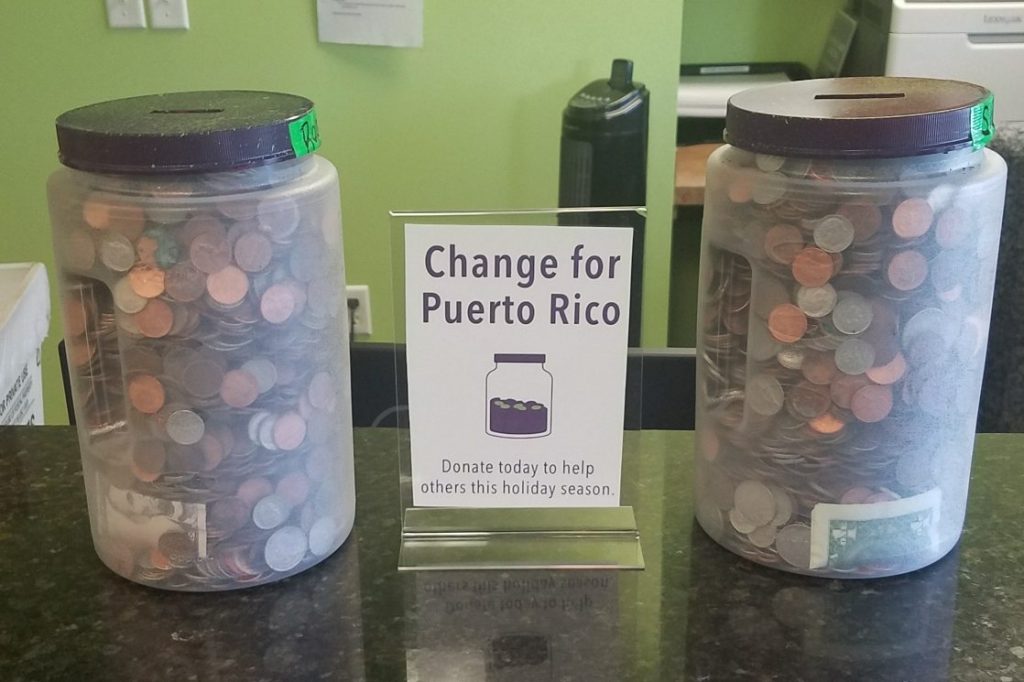 A Grade Ahead ended 2017 with a flurry of activities. The corporate office and central Ohio academies raised money through a Change for Puerto Rico campaign. Our central Ohio students participated in a trial of a new online system used to take the December curriculum test. A Grade of New Albany/Gahanna hosted a Halloween party for students and their friends, and we unveiled new charts to help understand our students' progress on the Parent Portal.
Here are some more details about the exciting things happening at A Grade Ahead:
Giving Back to Puerto Rico This Holiday Season
December is the perfect time to give back, and the staff and students at A Grade Ahead of Central Ohio and the corporate office chose to support Heart to Heart International this year. This charity provides direct support to the people of Puerto Rico who were impacted by Hurricane Maria.
Jars were set up in all of the academies to collect loose change. At the end of the four-week campaign, $867.92 was collected. Our founders, Meenal and Parag Singhal, generously matched the amount, and a grand total of $1,735.84 was donated.
Thank you to all of the kind-hearted contributors and a special thanks to the academy captains: Autumn Allin, Bethany Mullins, Sarah Sarfraz, and Johnny Taylor!
Pilot of Online Curriculum Testing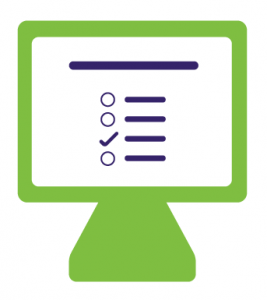 This December, A Grade Ahead tested a new service that allows students to take their curriculum tests online.  These online curriculum tests replace the paper tests in the booklets and were tested with all students except for those in Pre-kindergarten, Kindergarten English, Kindergarten math, and High School English.
Some of the exciting features of the online tests are…
Automatic scoring so that parents can view their child's test score immediately,
A chart on the Parent Portal that breaks down each student's scores into National Standards and provides a list of which topics should be reviewed,
A test percentile chart on the Parent Portal that compares each student's score with other students in our program, and
Convenience! The test can be taken any time during the test weeks at home on a computer or tablet.
Initial results suggest that pilot program was a success, and we hope to offer online testing to all A Grade Ahead students in the future.
Students Enjoy a Halloween Party in New Albany/Gahanna
In late October, A Grade Ahead students and their friends enjoyed a fun Halloween celebration at the New Albany/Gahanna Academy. The kids played games like Tic Tac Toe, made crafts like Mini Mummy piñatas, and enjoyed candy and cookies.
Both the adults and the students all dressed up. There were several princesses, Captain Underpants, and even the Cat in the Hat in attendance. It was a great chance to socialize outside of class with teachers, administrators, and classmates.
New Charts Launched on the Parent Portal
A Grade Ahead launched three new charts on our Parent Portal. These charts allow parents to see how their student is improving in his or her A Grade Ahead math or English program.
The new charts allow parents to see…
How a student is progressing from week to week,
How a student is progressing from month to month,
How a student is progressing in each section, and

Comprehension, vocabulary, grammar, and writing in English
Numerical drills and curriculum worksheets in math

An overall monthly measure of success.
The charts also allow for a weekly view that shows precisely which section a student is showing the most strength or weakness. Another view provides a monthly chart that provides a broad understanding of how well as student is grasping grade level concepts.
Did we miss anything? What's happening at your local A Grade Ahead academy? What do you think of the new charts on the Parent Portal?
Author: Amy Daniels, Marketing Manager, A Grade Ahead