Science curriculum launched in Dublin, Ohio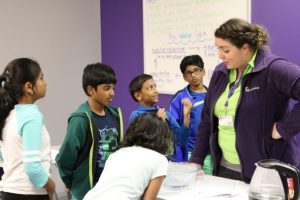 The Dublin, Ohio, academy launched a new 6-month science program for 3rd, 4th, and 5th graders. The pilot program covers physical, earth, and life sciences throughout the duration of the program. Each class is designed to be 50 minutes, like our math and English classes. Each topic is split into 2 weeks, and each week, students receive 2 days of homework.
Students of science at the Dublin academy seem to be enjoying the new material. The children had a lot of fun with teacher Emily at the trial class, shown here.
Science curriculum will be available in other academies beginning September 2019 or later.
Math Kangaroo
A Grade Ahead academies across the country volunteered as testing sites for the Math Kangaroo competition. Sixty-three students who tested at A Grade Ahead locations were national winners. We had a 1st place winner at our Warren location and a 1st place winner at our Tampa location.
Check out our post on Math Kangaroo, here! For more information on the contest itself, you can visit the Math Kangaroo website.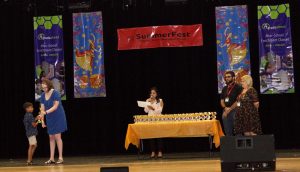 Tampa Events
Our five Tampa locations were premiere sponsors at Tampa Summerfest in May.
They also held a graduation ceremony for A Grade Ahead students who would be moving to the next grade in June.
Additionally, our New Tampa location held an Open House on June 15th.
Enrichment at Home adopts new technology
Our Enrichment at Home program launched a lot of new technology this last quarter including the new registration form that is mobile friendly. In addition to that development, the parent portal now allows users to add additional services to their existing accounts, such as adding subjects or siblings.
End of Year Staff Appreciation
In April, A Grade Ahead headquarters celebrated another great year and all our amazing employees with a staff appreciation night hosted at Star Lanes Polaris. Our staff enjoyed a fun evening of bowling, food, and great company!
TV Commercial Soon to Run Again
We first ran our TV commercial March to May of 2019. Keep an eye out for it again as it runs from August until October. This commercial highlights the many benefits of A Grade Ahead, including advanced lessons, stimulating worksheets, complex word problems, and comprehensive curriculum.
Watch the commercial here to get more insight into our Enrichment at Home program and our 30+ academies across the nation.
March Madness
For another year, A Grade Ahead headquarters organized a March Madness competition. Twenty staff members participated in this event that lasted weeks and kept the office abuzz as teams won and lost.
This year, the winner was Stephanie Miller, our Systems Coordinator. She received a cash prize, and she gets to admire her trophy until 2020's competition.
We also gave out a new prize this year – the "Don't Quit Your Day Job" award – given to the participant with the fewest points. Our winner of that prize was none other than Parag Singhal, the co-founder and president of A Grade Ahead.
What's happening at your local A Grade Ahead academies? Have you tried any of the new features at A Grade Ahead? Tell us in the comments below!
Author: Brenna Waugaman, Curriculum Writer and Blog Coordinator at A Grade Ahead
---
Get Notified When New Articles Post
Sign up to receive one email per week from A Grade Ahead full of parenting tips and helpful articles. Enter your information on the right hand side of our Blog page and we will add you to our list of subscribers. We also welcome your feedback and comments on our posts!