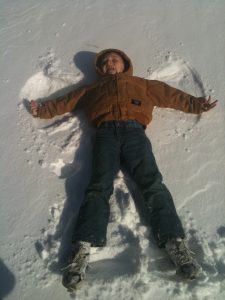 The Centers for Disease Control (CDC) suggest that kids should get at least 60 minutes a day of physical exercise per day. With colder temperatures approaching, staying active can be a challenge.  So here are some ways to keep your kids active in the winter.
Outdoor Activities to Keep Your Kids Active
1. Build a snow fort or something similar.
Make snow "bricks" using a sand bucket or small trash cans and pack the snow in and let it "harden" before building.  For older kids, have them build more complex shelters such as an igloo and tunnels. 
2. Have a snowball throwing contest.
Have kids make snowballs of different sizes and put them in separate piles depending on the size.  Have them take turns throwing each size and mark the spot with food coloring.  Using the same technique, you could make a target on a tree trunk and see who can get closest to the bullseye.  Take the snowball making a little further and see who can roll the biggest snowball.
3. Make a snowman.
Encourage your kids to build a snowman or snowwoman.  If there is plenty of snow, kids can expand their creativity by making snow animals and other ideas they may have.  You could also have the kids make snow angels.  This is not only fun for kids but adults, too.
4. Play Corn-Hole.
Instead of using bean bags from the corn-hole game, use snowballs instead.  Keep score the same way you would with the traditional game and switch players often.  To put a spin on the game, make up new rules or even build new targets out of snow!
5. Sled, snowboard, or ski.
Go the traditional route with outdoor activities.  Sledding is an easy activity if there is snow. All you need is snow, a sled, and a hill (just make sure there are no hazards at the bottom!).
If you don't have a sled, use cardboard, and you can throw it away when you're finished.  Also, if you don't have the equipment for snowboarding, skiing, or sledding, many ski facilities have rental options. They may have beginning lessons, as well. 
Indoor Activities to Keep Your Kids Active
 1. Discover indoor playgrounds.
Indoor playgrounds are fairly common. You can find them in shopping malls, fast food restaurants, and even larger playground facilities that charge a small fee. Many have structures such as bridges, slides, and climbing walls as well as plenty of space for your kids to expend their energy.
2. Build a fort.
The old fashioned way of building a fort uses materials that you will have in your home.  Use chairs, coaches, coffee tables, and card board with bed sheets. Forts can be as simple as a long sheet hung over a table or as complicated as an elaborate combination of couch cushions and chairs arranged to hold the sheet up. Then, once the kids are finished playing, they also have to put all the parts of the fort away – expending more energy and teaching good habits.
3. Build an obstacle course.
If you have the space, have a planning session with the kids to decide what obstacle you will have and build it together.  Use similar materials from the fort, a cardboard box as a tunnel and stacked pillows as hurdles.  Set up separate areas for jump roping, push-ups, or other activity that will keep your kids moving.
While a dedicated space is ideal, a garage or spare room can easily be converted to be a safe play area for your kids (and your possessions). It also helps keep the chaos to a minimum.
4. Play indoor volleyball.
Set up a "net" using a rope or a sheet. Blow up a few balloons and use them as a volleyball.  For more action, toss several balloons in the air and see who can keep theirs in the air the longest.  Sounds easy, but it can be a real workout! (Pro Tip: Make sure to use a space clear of obstacles or breakables!)
5. Play video games.
This may sound strange, but video games can be a good way to get kids active.  There are several interactive games that kids can play like bowling, tennis, golf, or even dance.  These games require kids to get up and move, and they don't even have to leave the house. Plus, the competition can keep them interested.
6. Have a scavenger hunt.
Depending on how hard you make the game, it could last an hour or longer.  At the end of the hunt, have a surprise for your child to "win."
What do you do to keep your child active? Leave a comment below.
Author: Pam Crum, Lead Teacher at A Grade Ahead