On Saturday, September 10th  at the Dublin Enrichment Academy, a celebration of thanks and transformation took place. To show gratitude to the parents and community for their continued support, as well as to introduce them to A Grade Ahead (Mathwizard's new brand) the company hosted a Family Fest – a free, fun filled event complete with games, food, and activities galore.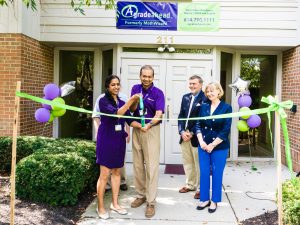 Ribbon Cutting
The event kicked off with a ribbon cutting ceremony outside the Dublin Enrichment Academy's doors. City officials were invited to take part in the anticipated revealing of the new colors and logos of purple and green. Although the rebranding had officially taken place on Monday, September 5th, and glimpses of the change had been shared early on to make an easy transition for everyone, this marked occasion held a special place for the owners, employees and all those who'd put hours and hours into making the transformation a successful one. (For more information on the rebranding, read "Mathwizard is Now A Grade Ahead.")
Ice Cream and Brainteasers
After the ribbon cutting, attendees were welcomed to take part in the many games, food, and activities provided to them by the AGA staff. From pretzels or popcorn, to bake-walks and water balloons there was something for everyone of every age and interest.
Celebrations around the Company
In addition to the name change festivities in Dublin, Ohio there have been, and will be, numerous other ribbon cutting ceremonies, open houses, and grand re-openings at the Enrichment Academies of A Grade Ahead's partners and franchises.
The Parsippany and Edison Enrichment Academies celebrated on the 17th and 18th of this month at their respected locations, and the Mason Enrichment Academy's ribbon cutting was on the 8th.
Other centers who will have/had similar celebrations:
Did you attend one of these events? Let us know how you celebrated with A Grade Ahead!
Author: Celeste Irving, Writer & Editor at A Grade Ahead