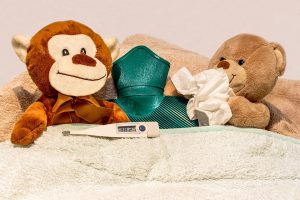 It's that time of year again when it seems like everyone is falling sick with something. Kids are especially susceptible to illness because schools are littered with different types of germs. Parents want to keep their children in school so that they don't fall behind in schoolwork, but they also want to be courteous to other children and families and avoid spreading illness.
So, what's a parent to do? Kids get sick, and as a parent, you want to make sure your children are getting adequate rest to recover from their illnesses but also keeping up in school. We have compiled a list of ways to prevent your child from falling too far behind in school from colds or flus.
Stay Healthy to Prevent Illness
It's impossible to avoid getting sick altogether, but there are ways to stay healthy and prevent some colds and illnesses before they start.
Make sure your child knows proper hygiene techniques (i.e. how to wash his or her hands or avoid rubbing eyes, etc.). This is especially important if your child is younger and isn't quite sure how germs are spread yet. Remind your child at home so that it becomes a habit at school.
Your child should also be getting adequate rest. Rest is sometimes all your child needs to stay healthy and happy. This also helps with his or her attention in school.
Do you need more information on preventing colds and flus? Check out this great list of cold and flu prevention tips from Parenting.com.
Prevention is the main goal, but if your child does get sick, follow the tips below:
Set an Action Plan with the Teacher
If you know your child is going to be home for a long period because of an illness, send your child's teacher an email and inform him or her of the situation. Your child's teacher may be able to alter assignments or send you the class' lesson plans for the time your child is out. That way, you, your child, and your child's teacher can work together as a team to make up for the time lost. Altering assignments or extending deadlines may be the best option for your child if he or she is going to miss a lot of school.
If your child is old enough, make him or her responsible for getting in contact with the teacher. After all, this is what adults have to do in the workplace.
Get Assignments Sent Home
Ask one of your child's friends to bring home the assignment for the day. You could also pick up an assignment packet after school as another option. With the assignments at home, your child can work on them and stay on track without risking other children getting sick.
While you want your child to work on these assignments, it's also important that your child rest. Try not to pressure your child into working on assignments when he or she just wants to rest. Take it slow and easy so that your child gets adequate rest to fight the illness.
Hire an After-School Tutor
When your child feels better, consider contacting an after-school tutoring center. One-on-one sessions with a private tutor can be dedicated to learning what he or she missed while sick. Your child may have missed important concepts in school that will affect him or her in later units. Most educational concepts build off one another, so if your child misses something major, he or she may be confused about other concepts later.
To avoid this altogether, schedule times with a tutor after school so that your child can learn these missed topics as well as work on homework and assignments with the tutor. Just an hour or two after school will catch your child up to where he or she needs to be.
You can't prevent your child from getting sick, but you can take steps to prevent your child from falling behind. What other things do you do if your child is ill for a long period of time? Let us know in the comments!
Becky Adams, Curriculum Manager, A Grade Ahead