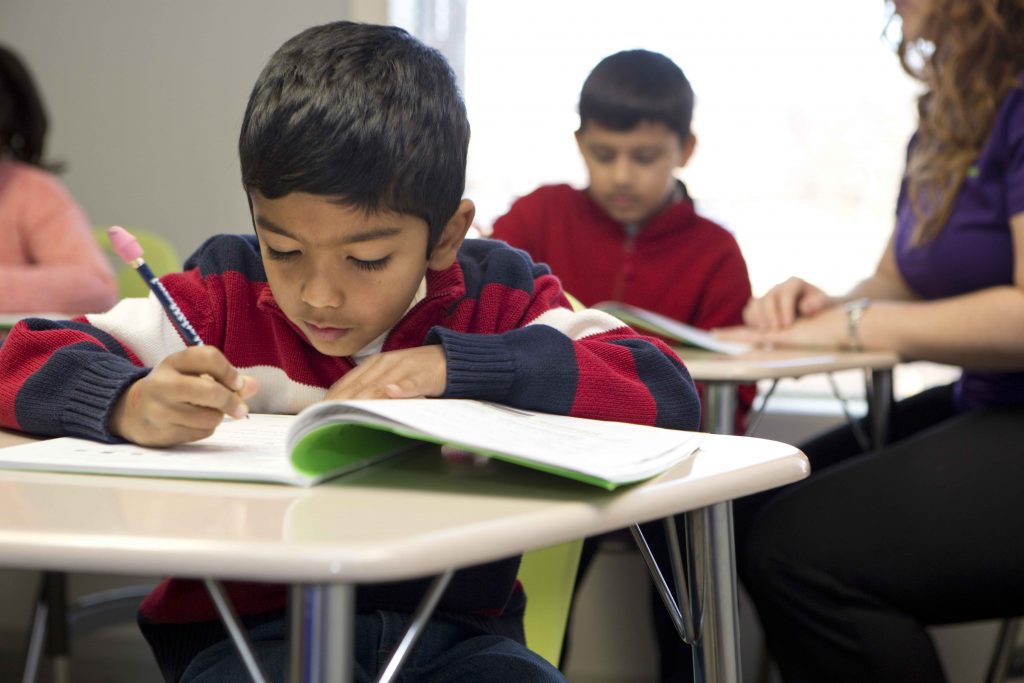 When your children are starting their first classes at a math learning center , it can be hard to know what you're supposed to do. Do you drop them off like you would at school? Do they need their backpacks? What time should you be there? And most importantly – how do you prepare them for class?
Here are a few simple tips to help you and your children get the most out of the experience with the least hassle.
MATH LEARNING CENTER SESSIONS: TIPS FOR MAKING THE MOST OF YOUR EXPERIENCE
1.Ask about what to expect.
Get a head start by asking about the rules and setup when you register for a math learning center session, or call a few days before the class. Be sure you know what students need to bring but also what they are not allowed to bring. Different learning centers have different rules about snacks, breaks, calculators, phones, and more – just like some centers provide pencils and others require students to bring their own. By asking ahead, you can avoid unnecessary headaches, including some attitude problems.
Starting out by getting in trouble for accidentally breaking a rule can ruin a kid's first impression of class – even if it's as simple as being embarrassed by not having supplies. So don't assume that a pencil or calculator will be provided. Knowing what to expect can really improve a kid's relationship with the teachers and your child's feelings about the class as a whole.
2.Talk to your child beforehand.
Don't forget that going to a learning center is new for the child, too. Many children find dealing with new or unknown situations very stressful. Telling them what to expect beforehand as far as the schedule, situation, and class can help minimize these anxieties and enable them to focus better on the math lesson.
Explaining why your child is attending sessions can also improve motivation and results. One of the best ways to help children succeed in math enrichment programs (or any learning program) is to talk about why they're going and what you expect from them. This can be as simple as, "You're going there to learn, so work hard, listen, and be respectful of your teacher."
3.Make healthy choices.
The phrase "healthy body, healthy mind" is true. Kids think better when they're well-rested, well-fed, and hydrated. Getting a full night's sleep or taking a break between school and tutoring can make a dramatic difference in how well children learn. Having a little playtime can help kids stay in their seats without fidgeting. Having a healthy snack can help boost energy in a positive way, but avoid sugary snacks that make kids too hyper to focus on math.
4.Arrive early.
A student's first class in a math learning center is a lot like the first day of school. Rushing in and being late make for a bad first impression. Even worse, it makes the experience more stressful for everyone involved, especially the kids.
You can avoid that by making sure you give yourself plenty of time to park, get any paperwork done, and talk to the people involved. It can also take a few minutes to find the classroom or waiting room, so plan ahead for that. Something as simple as knowing where the bathroom is can make the experience less stressful for everyone!
5.Meet the teachers & staff.
Make sure you take the time to introduce yourself and your child to the teacher and center administrators. Knowing the adults makes the classes less intimidating for a young student and so does meeting them with a parent present.
It also helps you to start building a relationship with the teacher. The best way to know your child's progress is to talk to the teacher regularly, so start the conversation early and check in often. If you make it a habit from the beginning, staying updated will be easier later.
Math learning centers are great resources, but when you're starting at one, it can be hard to know what to expect. Following these simple steps can prepare your child to do his/her best and help minimize stress for child and parent alike.
Did we miss anything? What sort of tips would you give other parents to prepare their children for a math learning center session?
Author: Elizabeth F., Writer, MathWizard, Inc.