Kumon learning centers are located in every state in the United States and over 40 other countries around the world. It's certainly a brand with name recognition, so it's no wonder that parents consider Kumon when they are searching for an enrichment or tutoring program for their students. Here's the thing, though—brand recognition does not necessarily relate to the best program or best value. Like any decision that affects your child, you'll want to do your research and consider any alternatives. Educational enrichment is a full field. So, before you search the web for "Kumon center near me," take a moment to ask some questions on how Kumon works. To choose the best educational enrichment program for your child, be sure to consider if a different academic enrichment program, like A Grade Ahead, is a better choice for your family.
Let's take a moment to analyze some key differences that may occur between two educational enrichment programs. There are many different approaches to enrichment, and Kumon and A Grade Ahead are evidence of that fact.
Educational Enrichment Programs: How does A Grade Ahead compare to Kumon?
Class Content and Times
At Kumon, parents are required to bring children to a center twice weekly for 30 minutes each time. Students then complete 5 additional sets of worksheets at home. Students work on the same worksheets until they achieve 100% accuracy—often repeating them many times before moving on to the next level curriculum.
A Grade Ahead takes a different approach.
When your child is enrolled at an A Grade Ahead academy, he or she takes one 50-minute class per week—allowing you time for all those extracurricular, which can be hard to balance (check out these tips, here!). In class, a proper lesson is taught by a highly-qualified and rigorously assessed teacher. Then, students practice one worksheet with the teacher in class to ensure understanding of the topic. In the week that follows class, students have additional worksheets to practice at home for two to four days (depending on the grade level) to reinforce the learning. A Grade Ahead even utilizes a Hands-on Learning (HOA) activity for the final week of the month to allow students to use the lessons they have learned that month in real life situations. Overall, students get to learn and practice knowledge in many different contexts to ensure complete mastery of a topic.
Supplemental Worksheets
One of the biggest points to consider when comparing Kumon to A Grade Ahead is the way the curriculum program is structured. Kumon is known for (and often criticized for) the monotonous repetition of its worksheets and the lack of instruction on the lesson itself. Kumon likes to refer to this as "self-directed learning."
Comparatively, A Grade Ahead offers a completely unique curriculum that is designed in-house and then taught by a highly-qualified teacher. A Grade Ahead feels that classes should be filled with interactive curriculum. Not only that, but this interaction curriculum should be taught by teachers who are excited to engage with your children who are prepared to vary teaching practices in a way that most benefits your child. As a parent, you care enough to pay for and drive your child to and from an enrichment program—the care and attention your child receives from a program should reflect that.
A Grade Ahead works to prevent student boredom as he or she moves to a new challenging lesson each week after mastering the previous topic through non-repetitive homework sheets. This A Grade Ahead approach is much different than Kumon, where a student cannot advance without 100% performance on repetitive challenges.
Teachers, tutors, or instructors—which is best?
Kumon utilizes instructors to monitor students in their centers, but they are not present to guide or teach children. Instead, they simply go over the assigned homework to see if it's been completed and correct. If it is correct, the instructor gives out the next set. According to their own website, Kumon says, "Kumon teaches them self-learning, where your kids learn by studying examples and figure out how to complete the work on their own. They learn to rely on themselves, not on what the teacher knows."
At A Grade Ahead, students receive a properly taught lesson each week that is reinforced with immediate practice. The opportunity for your child to ask for clarification or help in understanding the topic makes learning easier (especially for the youngest learners). The highly qualified teachers are given clear lesson plans designed uniquely for A Grade Ahead. Teachers prepare in advance for lessons, so they are never caught by unfamiliar material. The year-round educational enrichment program allows teachers and students to get to know each other. Plus, teachers are able to better assess a student's needs and maintain the open and regular communication with parents that is encouraged.
Kumon says that all of their instructors who check work are required to hold a 4-year degree and have received extensive Kumon method training. Yet, the most common complaint about Kumon academies is the lack of instruction and claims that the instructors are high school-aged children themselves. So when it comes to upholding the standards of every instructor holding a 4-year degree, it seems that that may not be enforced or consistent from one franchise location to the next. And with thousands of Kumon centers in over 40 countries around the globe, one can quickly see that while this may be a policy, it is not being adhered to and is not practically enforceable.
At A Grade Ahead, our teacher policy requires that all our instructors (even across our more than 30 franchise locations) are required to have at least 3 years of college education, preferably with a background in education or the specific subject matter being taught. However, the vast majority of our teachers possess at least a bachelor's degree and have experience actually teaching and/or a background in education, math, or English.  Interestingly, many of our corporate staff are educators by trade and bring that experience and knowledge to our entire curriculum design and add to its constant improvement.
Study Tables vs. Classes
Another practice at Kumon centers that raises eyebrows is the use of communal study tables. This means that there could be kindergartners practicing simple addition worksheets while sitting next to middle schoolers practicing advanced Algebra. At A Grade Ahead, children are in a classroom with no more than 8 students (that is the strict max limit) and every other child around them is learning the same lesson. The classes meet weekly at the same time, so students build camaraderie with their teacher and peers and enjoy learning together.
Value of Service
As franchises, both Kumon learning centers and A Grade Ahead academies have pricing variations from location to location. However, David Samuel at Kumon Math and Reading Center of Westchester, CA, note that prices at Kumon range from $90-$180 per month per subject with the average being $150 per subject. There is also a registration fee of $50 and an initial material fee of $15.
A Grade Ahead's academy prices also vary from location. The current range is as low as $80 per subject per month (with some discounts offered) to up to $ with the average price being about $110 per subject per month. Registration fees are no more than $50 per family, and often a discount is offered to waive that as an incentive to sign up.
The two programs are comparable on price—so it comes down to value. What elements are you looking for most in an academic enrichment program? Here's a visual look at a comparison between the two franchise models: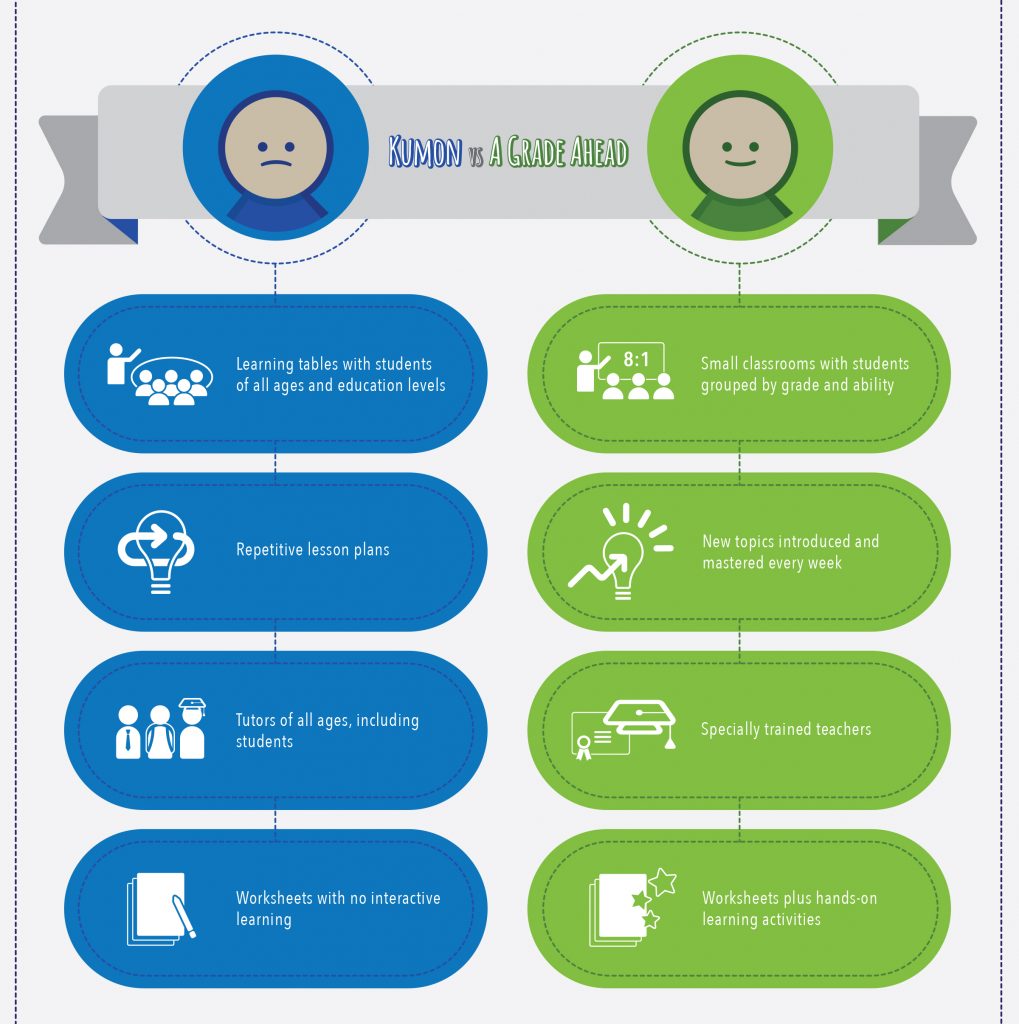 Are you intrigued and want to know more specifics about A Grade Ahead? Visit the main website page to see if there is an academy near you!
Unlike Kumon, A Grade Ahead offers a program for students who live more than 10 miles from one of their enrichment academies. The Enrichment at Home program allows those who are eligible to have highly acclaimed curriculum mailed directly to them each month where the parent will be able to lead the child through a well written lesson and complete the practice sheets at their own pace in the comfort of their home. Visit A Grade Ahead's website and type in your zip code to see whether you qualify!
Have you researched educational enrichment programs for your child? Do you have any experiences you'd like to share? We'd love to hear from you in the comments below!
---
Get Notified When New Articles Post
Sign up to receive one email per week from A Grade Ahead full of parenting tips and helpful articles. Enter your information on the right-hand side of our Blog page and we will add you to our list of subscribers. We also welcome your feedback and comments on our posts!