A Grade Ahead's Preparing for Tests material is curriculum designed to help students study for their standardized tests. Most of our academies offer this material in February to guarantee that students have time to study before testing begins. And when parents ask how to make the most of preparing for tests material, our answer is 5 simple steps: read the tips, imitate test conditions, track time, analyze progress, and do your best.
Make Sure You Use Preparing for Tests Material to Its Full Potential!
1. Read All the Tips.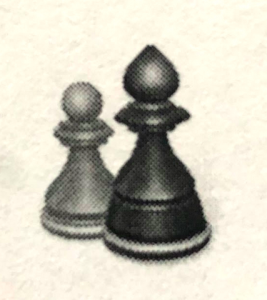 As our intro to our study material showed previously, our test prep examples have test-taking tips. You can find these tips at a glance by looking for the chess piece symbol.
These tips relate not only to the topic covered but also to taking tests in general. So make sure you read each one to make sure you're not missing out on a strategy that could help you out.
2. Imitate the Test Conditions.
You don't get to take a test with music playing, access to your phone, or friends talking to you. And if you really want to see how well you do in a quiet room with minimal distractions, that's how you need to practice.
You should take the practice test in surroundings that are…
Quiet

Free from distractions

Do not include access to items you won't have during the test

Not where you normally do homework
The last one is not a strict rule, but it can be helpful to practice in a space that is less familiar and comfortable. After all, grade tests often take place in uncomfortable desks accompanied by awkward silences (Pity the poor student with the sniffles!).
Can you duplicate that at home? Probably not. But you can add a little level of tension and focus by working in a space where you're less used to being (like a library).
3. Track Time.
This is most useful in different sections like Calculator and Non-calculator for math. Or for prose constructed responses versus comprehension questions for English. If you're watching the time, simply write it down next to whatever question you're on and move on.
Remember: you don't have to calculate the time while you're working. As long as you write the actual time down at the beginning of each page or section, you'll be able to check where you spent most of your time later.
If, that is, you wrote down when you started. (So don't forget!)
4. Analyze Your Progress.
During Preparing for Tests month, each week of homework is formatted as a test. While specific topics are covered each week, the homework tests will likely include overlap, as well, to create a more realistic test experience. That means that you have 4 separate opportunities to evaluate your progress.
Look for…
Areas where you spent more time

Similar errors (Missing the same type of question or for the same reason)

Any topics that you didn't remember or struggled with

Opportunities to use test strategies (that you didn't take!)
If you don't have time to do this after each test (which is completely understandable), at least try it after the 2nd and 4th. That gives you 2 more tests to try to improve and another analysis to see if you did.
5. Do Your Best.
Even though A Grade Ahead grades do not show on college transcripts, it is important to do your best. Without effort, the analysis is not going to be accurate, and the potential growth shrinks dramatically.
To truly get the most out of the material, students need to focus and honestly try. Of all these tips, this one is the most important.
Interested in tips more specific to you? Try asking your A Grade Ahead teacher!
Author: Elizabeth F., Writer and Teacher at A Grade Ahead