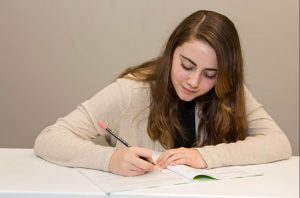 College enrollment among lower income students has been an issue for years. High schools want their students to move on to college, but among lower income students, that has not been a reality. New research suggests that if states pay for the cost of college entrance exams (ACT and SAT), college enrollment among lower income students increases. Paying for the tests and making them mandatory would, in effect, eliminate a hurdle for students to get into a four year college.
Mandatory ACT and SAT Tests: Does it Work?
Increased College Opportunity for Low-Income Students
Some states have already made the SAT and ACT tests mandatory, and the research found in the latest study published in the MIT Press seems to support states adopting that practice.
During a study of 700,000 Michigan high school juniors, it was found that for every 100 low-income student who took the ACT, almost 50 students who didn't take the test would have scored at a college-ready level. That means that many students who are academically ready for college are not even taking these tests due to the cost, a situation that could change dramatically if college testing is supplied by the state.
For lower-income students, a free entrance exam may help them realize that college could be in their future. Instead of worrying about test fees, they can focus on the entrance exam itself. While wealthier students pay for practice tests and preparation courses, lower income students are left without an option to even attempt the test. This new policy could help lower income students realize their potential, especially students who are better prepared for college than they think they are. If the exam is free and mandatory, they could at least see if they are eligible for a four-year college without spending the money to do so.
How Do Schools Feel about It?
Reactions to these programs are mixed. School districts concerned with providing more opportunities for low-income students find them very valuable. For example, when Missouri eliminated its program to pay for students' entrance exams due to budget cuts, some school districts were upset about this policy change – and still are.
Kevin Goddard, superintendent of Sarcoxie school district said the biggest affect would be when "a kid gets a score back that's like 21, 22, and they might not have taken it otherwise." Lower-income students who do not see themselves as college-qualified before the test may reconsider college in their future after taking the test.
On the other hand, some states and schools districts see mandatory testing as a negative. Scores, which affect school and districts' performance report cards, usually lower when every student is required to take the test. Missouri's average ACT score dropped 1% after the first year of mandatory testing. If participation drops, ACT scores will rise, which will reflect positively on schools' performance of college preparedness; however, this performance would not be a true representation if all students do not take the exam.
Should the Tests Be State Funded?
Mandatory and free testing for entrance exams may be the next big decision for certain states. To eliminate hurdles for lower-income students, states could pay for their SAT or ACT fees, which cost around $46 to $62.50 per student. This would provide accurate data of college preparedness for each district as well as empower students to plan for four-year colleges. It is, however, a large cost for states to incur, and since each school's overall score may lower, it could affect school funding.
What do you think? Should states pay for students to take the SAT or ACT entrance exams?
Author: Becky Adams, Curriculum Manager at A Grade Ahead