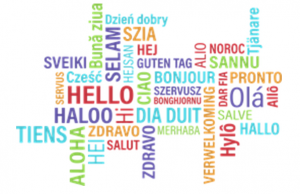 Navigating American schools as a family whose primary language is not English is a challenging and stressful process; it is one that will take time and patience. Learning a second language in an unfamiliar country is not easy for a student at any age. As a parent, you do not want your child's educational success hindered due to language or cultural barriers.
English as a Second Language (ESL) programs combined with frequent and effective communication with your child's school will help immensely. All parties involved – the school, parents, and child – should keep communication open and be active participants to ensure your child's success.
WHAT ARE ESL PROGRAMS?
American ESL programs exist to develop the level of English for students who have a different dominant language. Most schools and communities offer ESL programs for children of all ages, ranging from elementary school to collegiate courses. ESL classes are contingent upon students' level of understanding of the English language, but all ESL programs focus on verbal communication, reading, writing, and grammar.
Therefore, one of your first steps as a parent should be to notify the school that your child is an ESL student. Your child's school needs to know that your student's primary language is not English so that he or she can enroll in ESL programs and be given the resources needed for success. It is imperative that your child's teachers know this so that they do not think your child is shy or uninterested. You do not want your child to be overlooked or for grades to suffer as a result of the transition.
WHAT ARE THE BENEFITS OF AN ESL PROGRAM?
Oftentimes, a student is assigned an ESL teacher who assists with all aspects of his or her schooling. ESL teachers typically receive additional training to be able to identify students' unique needs, as well as their cultural and educational challenges. When your child is enrolled in an ESL program, he or she will have the opportunity to have extra time on tests, and in some situations, the ESL teacher can assist with comprehension.
PUSH-OUT VS PULL-IN ESL LEARNING STYLES
There are varying models of learning for ESL students, but two of the most prominent types are the "push-out" and "pull-in" methods. In the "push-out" method, each ESL student is taken out of class in order to take an ESL class with an ESL teacher. In the "pull-in' method, the ESL teacher comes into the classroom to assist the ESL student during one of his or her classes.
It will depend on your school district as to whether your child will receive ESL instruction using the "push out' method, "pull-in" method, or a combination of both. If you find that your child prefers one model over the other, or that he or she is not benefiting from a particular style, speak with his or her ESL teacher to make arrangements accordingly.
ARE THERE OTHER PROGRAMS THAT CAN HELP ESL STUDENTS?
Writing and reading English is normally more difficult for your student than speaking the language. ESL classes facilitate proper education, but it may be a good idea to expose your child to additional English classes by enrolling in an afterschool program such as MathWizard.
At MathWizard, our teachers work with ESL families frequently, and our classes allow for more one-on-one attention with your child. The additional educational time in a smaller classroom size will help your ESL student learn English more quickly. Private tutoring is also available so that children at any ESL level can excel. Additionally, MathWizard is a great place to network with other ESL families and for your child to meet more friends.
HOW CAN I ENSURE MY CHILD'S SUCCESS AS AN ESL STUDENT?
More importantly than anything else, be involved in your child's education. While your child will have an ESL teacher at school who will help your child navigate difficulties on a daily basis, your engagement is crucial for your child's success.
At School…
Encourage friendships with English speaking children, as this will not only help your child assimilate with peers but also improve his or her English speaking skills. The more often your child is around other children who speak English, the more quickly and accurately he or she will learn the language.
Check in with your child's regular teachers and ESL teacher on a regular basis to see how your student is doing and what areas he or she may need extra help in. Be supportive because children, especially younger ones, may not be able to articulate their issues to teachers. You must be your child's #1 advocate.
Embolden your child to be comfortable enough to go to teachers on his or her own when he or she needs extra time or extra help in a class. Both you and your child should speak up as often as necessary and feel comfortable doing so. Giving your child the tools to strengthen his or her confidence will empower him or her to become his or her own advocate.
At Home…
Speak with your child regularly about school. Every student has challenges and weaknesses, and ESL students are no exception. It is crucial for you to ask your child how he or she is feeling, listen to what is on his or her mind, and work to resolve any issues.
Always make yourself available for your child. Do not wait for him or her to approach you with an issue – by constantly checking in, you can get ahead of any potential problems.
Parents, what types of challenges have you and your ESL child encountered? Do you have tips for other parents to help ESL students navigate American schools?
If you would like to learn more about ESL programs in Columbus City Schools, click here.
Author: Ashley Moore, Editor at MathWizard, Inc.