What is Diwali?
India's most important holiday of the year is Diwali, which is also known as the Festival of Lights. This religious holiday is celebrated in either October or November of each year, depending on when it falls within the Hindu Lunar calendar. While it is an official holiday in countries such as India and Nepal, Hindus all over the world celebrate Diwali, including here in America. It is celebrated amongst family and friends, and the festival lasts for five days.
How long have people been celebrating Diwali?
Hindus have celebrated Diwali for many years; historians believe this holiday originated during ancient Indian times, when India was an agricultural society. The celebration occurred during the last harvest of the season, which was the end of the financial year. Indians would thank Lakshmi, the Hindu goddess of wealth and prosperity, and ask for her blessings for the upcoming year.
Why do people celebrate Diwali?
Diwali celebrations and interpretations can differ slightly depending on region, but the purpose of celebrating it is to rejoice in the victory of good over evil, light over darkness, hope over despair, and knowledge over ignorance. It is also a time to celebrate new beginnings, as the last day of Diwali is also the first day of the Hindu New Year. No matter how Diwali is commemorated, the theme of light is always prevalent. The lights represent the spiritual light that shields people from immoral darkness.
How do people prepare for Diwali?
A lot of time is spent to prepare for Diwali. One the first day, homes are thoroughly cleaned before any decorations are set up for display so that the homes are cleansed for the New Year. Shopping is an important step of the preparation – in fact, this is one of the biggest shopping times of the year in India. Hindus buy new clothes to wear for Diwali, purchase gifts for exchange amongst one another, and buy food for the feasts that take place.
Decorations are mainly comprised of all types of lightings – Diwali is known as the Festival of Light for a reason! Oil lamps, clay lamps, electric lights, strings of lights, and candles are used to illuminate homes and are set up on the second day of Diwali. Businesses, temples, and public spaces in India also partake in the decorating for the holidays. The millions of lights lit and hung emblaze the night sky which makes for a beautiful spectacle.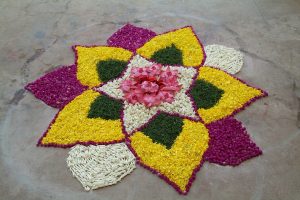 Intricate art works called Rangolis are created and displayed for the holiday, and children love to design them (click here for printable designs). They are constructed on the floor, and they can be comprised of flower petals, colored sand, or rice. In addition to the lights and decorations, it is common to open doors and windows to welcome Laskhmi into homes.
How is Diwali celebrated?
The third day of Diwali is the main holiday, and the light displays are fully set up and lit on this day. Hindus wear the new clothes they purchased, such as saris and kurtas, to display wealth and prosperity. Families visit their temples and say prayers to Laskhmi. Afterwards, they enjoy festive meals that are traditionally prepared. The food varies depending on the region of the country, but sweets are always a big part of Diwali celebrations.
Massive firework displays are set off all over India at night which is a hallmark feature of Diwali. Bonfires and lanterns are lit, and children play with firecrackers. The firepower and loud noises are symbolically intended to keep evil away. 
The fourth day of Diwali signifies the start of the Hindu New Year. Gifts are commonly exchanged between families and close friends, and well wishes are shared in regards to the New Year.
Celebrating Diwali with Kids
The final day of Diwali is significant for children because it is a special day of bonding between brothers and sisters. Brothers exhibit their love by giving gifts to their sisters and making or sharing a special meal together. In return, sisters place a mark on their brothers' foreheads called a tilak for good luck, and they pray for the well-beings of their brothers.
Diwali is an exciting and joyous holiday to celebrate with children, whether your family is in India or America. Encourage your children to participate in all parts of the holiday, including the cleaning and preparation. Instill into them the religious and historical significance of the holiday. This will teach your children to fully understand and respect Diwali, and it will make them appreciate all of the work that goes into it. The traditions and significance you emphasize will lay the foundation for how your children will celebrate with their own children in the future.
Parents, what is your favorite part about Diwali? How do you celebrate Diwali with your children? Please feel free to share how you and your family celebrate Diwali.
Author: Ashley Moore, Editor at A Grade Ahead.