You've put your children in a good school, you've enrolled them in a quality educational enrichment program and enrichment camps, and you spend time with them to make sure they understand the importance of their studies. What more can you do to help them succeed without overloading them with educational pursuits? The short answer is to enroll them in an arts program. Dance, music, crafting, and theatre have all been shown to stimulate brain growth and improve mental abilities – the arts help students grow.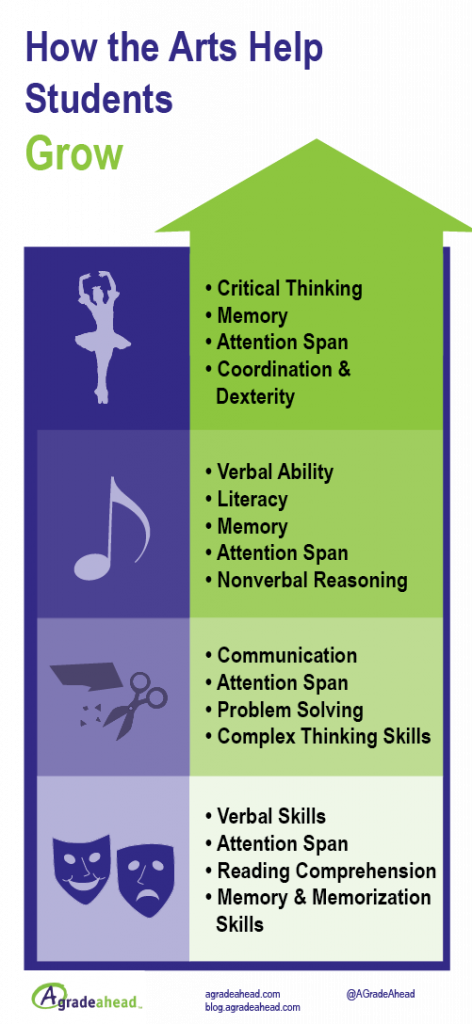 How the Arts Help Students Grow
Involvement in any after-school activity decreases drop-out rates, increases attendance, and improves social skills, but that's only true if the child wants to be involved either because he or she enjoys the activity or has friends in it. The same is true for all the benefits listed below – students get the most out of the arts if they enjoy them. Fortunately, there are many different options to choose from even within each category below, so all you have to do is find the one that interests your child.
Benefits of Dance
Ever think about how your brain is linked to motion? No? Well, scientists have, and right now there's a growing interest in how exercise and brain function are connected – mainly because they keep finding information to show that there are much bigger connections than we used to believe.
To start, they've found that aerobic exercise at least twice a week can improve thinking and memory, both by stimulating neuron growth and increasing oxygen levels in the brain. There is also increasing evidence that exercises that require constant thinking and evaluation (like dance) have dramatic effects on brain growth and connectivity.
Dancing…
Improves critical thinking
Increases memory and ability to focus
Decreases stress and depression
Improves strength, coordination, dexterity, and balance
If you want to read more about how it works, here are some articles about how dance improves brain function:
Benefits of Music Education
Listening to music is an enjoyable activity for anyone, but learning to play an instrument or to sing can have deeper-reaching benefits. The concentration on rhythms, counting, and corresponding actions have similar benefits to those of dance, and evidence suggests that there is a strong connection between language development and learning to play music.
Learning to play an instrument…
Increases verbal ability
Improves literacy and verbal ability
Decreases stress
Increases memory and ability to focus
Here are additional articles if you're interested in learning more about music and the brain:
Benefits of Arts & Crafts Education
The repetitious nature of many arts and crafts gives them the same soothing, stress-relieving effects as meditation – to the point where they are often used as therapy for anxiety and stress. At the same time, the open-ended nature of art projects allows students to use many of the same skills required for careers like engineering and medicine: critical thinking, planning, and problem solving.
Whether the student is doing knitting, painting, drawing, ceramics, woodcarving, or any other art form, there are myriad benefits.
Art…
Improves communication skills
Increases memory and ability to focus
Decreases stress and depression
Improves complex thinking skills and problem solving
Want to learn more about how art improves brain function? Here are some interesting articles:
Benefits of Drama Education
Theatre or drama links words to actions, giving it similar benefits to dance and music. At the same time, it often is more open-ended like crafting, allowing for greater personal expression at a lower level and offering students a more direct involvement in the planning and execution.
Drama…
Improves verbal skills
Increases memory, memorization skills, and ability to focus
Decreases stress
Improves reading comprehension abilities
For more information on drama and learning, here are some interesting articles:
After reading these details, you can see how the arts help students grow physically, emotionally, and mentally. They inspire greater connectivity within the brain as well as stimulating general brain growth. At the same time, they give students first-hand experience in critical thinking, planning, and development of their plans. Best of all – they're fun! Find the one your child enjoys or try several. Imagine how much a child's mind could grow from doing more than one!
Do you have any questions? How have the arts helped your child grow?
Author: Elizabeth F., Writer and Teacher at A Grade Ahead.