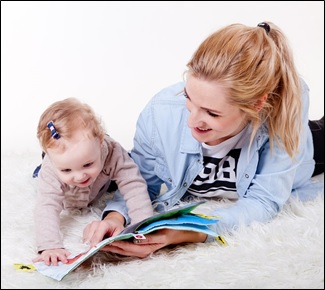 With Mother's Day right around the corner, we thought it would be a fun idea to ask the A Grade Ahead team for their favorite mothers from books! In no particular order, I present to you everyone's nominations below. Enjoy!
Happy Mother's Day: Our Most-Loved Mothers from Books
Emily Cratchit from A Christmas Carol, by Charles Dickens:
"Although the Cratchits are extremely poor, Emily works hard to make sure her children have a wonderful Christmas meal. She also values family above all."
The Tree from The Giving Tree, written and illustrated by Shel Silverstein:
"The tree from this book is so loving to the boy – giving him everything he needs in every stage of his life – even when it means becoming a stump."
Lily Potter from the Harry Potter series, by J.K. Rowling:
"Lily made the ultimate sacrifice and died at the hands of Voldemort in order to protect her son, Harry. This love allowed him to live and become a great wizard."
Molly Weasley from the Harry Potter series, by J.K. Rowling:
"Although Harry has a less-than-ideal life living with the Dursleys when not at Hogwarts, he can always count on Mrs. Weasley to be a great mother figure to him while in the wizarding world. She loves him as one of her own children and supports him in every way imaginable."
The Mom from Love You Forever, written by Robert Munsch and Illustrated by Sheila McGraw:
"This book was read to me as a little boy and still makes me cry today!"
Mrs. Mallard from Make Way for Ducklings, written and illustrated by Robert McCloskey:
"She is loving, protective, fearless, and independent – and does a good job teaching her ducklings how to do duck things."
Miss Honey from Matilda, written by Roald Dahl, and illustrated by Quentin Blake:
"I loved Miss Honey from Matilda. She adopted Matilda once she realized she wasn't being treated properly at home. She was such a kind mother figure, and she helped Matilda blossom."
The Mother Rabbit from The Runaway Bunny, written by Margaret Wise Brown, and illustrated by Clement Hurd:
"The baby bunny tries to trick the mother rabbit by saying how he will run away from her, but no matter what he says, the loving mother tells him how she would still find him and love him."
Mrs. Murry from A Wrinkle in Time, by Madeleine L'Engle:
Mrs. Murry is a "Great example of a single mother, trying to keep it together with 4 very unique kids, while also dealing with the mysterious disappearance of her husband. She celebrates the uniqueness of each of her children and encourages them to never change who they are just because it 'doesn't fit the status quo.'''
What do you think? Who are your favorite mother figures from literature? We would love to hear from you in the comments! And on behalf of A Grade Ahead, I would like to wish every mom out there a very happy Mother's Day!
Author: Emily Karth, Program Coordinator at A Grade Ahead
---
Get Notified When New Articles Post
Sign up to receive one email per week from A Grade Ahead full of parenting tips and helpful articles. Enter your information on the right hand side of our Blog page and we will add you to our list of subscribers. We also welcome your feedback and comments on our posts!