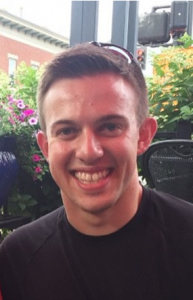 We'd like to introduce Adam Sullivan: a teacher and curriculum writer who is in his third year of working at A Grade Ahead. An alumni of Otterbein University, he has a Bachelors of Arts Degree in Mathematics and a Grades 7-12 Teaching License. He has outstanding knowledge and enthusiasm for helping students succeed, especially in the subject of mathematics.
After even a few moments in his class, you can see his strong passion to help each and every student achieve his or her academic goals. Adam's students and coworkers can also appreciate his strong work ethic and positive attitude (He's always smiling!).
We sat down with Adam and asked him a few questions so that you could all get to know him a little better. Enjoy!
What is your favorite part of working for A Grade Ahead?
This is a very difficult question because there are a lot of great parts to working for A Grade Ahead, so I am going to give two answers. First, I really enjoy the students we get to work with. Teaching in an after-school setting is unique because a lot of the time our students come in to class relaxed and having fun after a full day of school rather than tired in the mornings or focused on a busy school day. This helps me get to know the students better, helping us all to have more fun than what a large school classroom may allow.

My second answer is getting to work for and with the other employees here at A Grade Ahead. There is a great amount of camaraderie among coworkers, and while I find that everyone works hard, we also greatly enjoy what we do and who we're with. Our employee gatherings are always fun, and our owners frequently express their gratitude for everyone's work in the company.
 Why did you choose to pursue a degree in mathematics and a teaching license?
I first went to Otterbein majoring in Actuarial Science. After my second year of school, I was very fortunate to obtain a summer internship with an insurance company in Columbus, but I had also been working in Otterbein's Math Lab throughout that second year.

After what I felt was a great internship, I returned to working with students in the math lab and truly came to realize that I had a passion for working with students and seeing them succeed. That fall semester, I changed my major to join the math education program, and I have continued to love working with students and leading the classroom.
What would you like to do most in the future? (Either professionally or personally)
When I started into math education, I knew that I wanted to end up teaching in the high school setting, and I am getting to do that full-time this coming school year at Hilliard Davidson High School. In my personal future, I am looking forward to someday becoming a dad. While that is still multiple years away, I am getting married next summer, so I am looking forward to that first step of starting my own family.
What do you like to do for fun?
I have always enjoyed playing and watching different sports, but something more unique I enjoy to do is singing. Throughout high school and college, I was involved in various singing groups and even had the opportunity to compete a couple of year with an a cappella group at Otterbein.

Since finishing school, I have had the opportunity to sing in my church's worship band, and I hope to continue with that and find even more opportunities to be a part of vocal groups.
What is the best advice for students who want to excel in school?
The best advice I have for students who wish to excel in school is to do the extra work that a teacher might refer to as challenge problems or extra questions. These questions often times have applications and situations that help us to see the relevance of the content being learned, and thinking through extra problems can always help strengthen your skills.

Plus taking on challenges in the classroom can help you build a stronger relationship with your teacher, which can make asking questions and further exploration of topics much more comfortable to do.
Describe one teacher or educational experience that changed your life.
One teacher that has changed my life is Dr. Tong, a professor I was extremely fortunate to have for two courses while at Otterbein. Dr. Tong was the only teacher I've ever had that stood at the front of the classroom and told the whole class how much he loves us, cares about us, and wants us to succeed. He has a heartwarming laugh and brings an incredible amount of positive energy to the classroom.

The courses Dr. Tong teaches are certainly difficult, but he sets a tone of achievement in his classroom from day one and is constantly encouraging his students along the way. I hope to provide my students with that same atmosphere in my own teaching career.
Have any other questions that you would like to know about our A Grade Ahead staff?
Author: Nate Baltzer, Teacher at A Grade Ahead