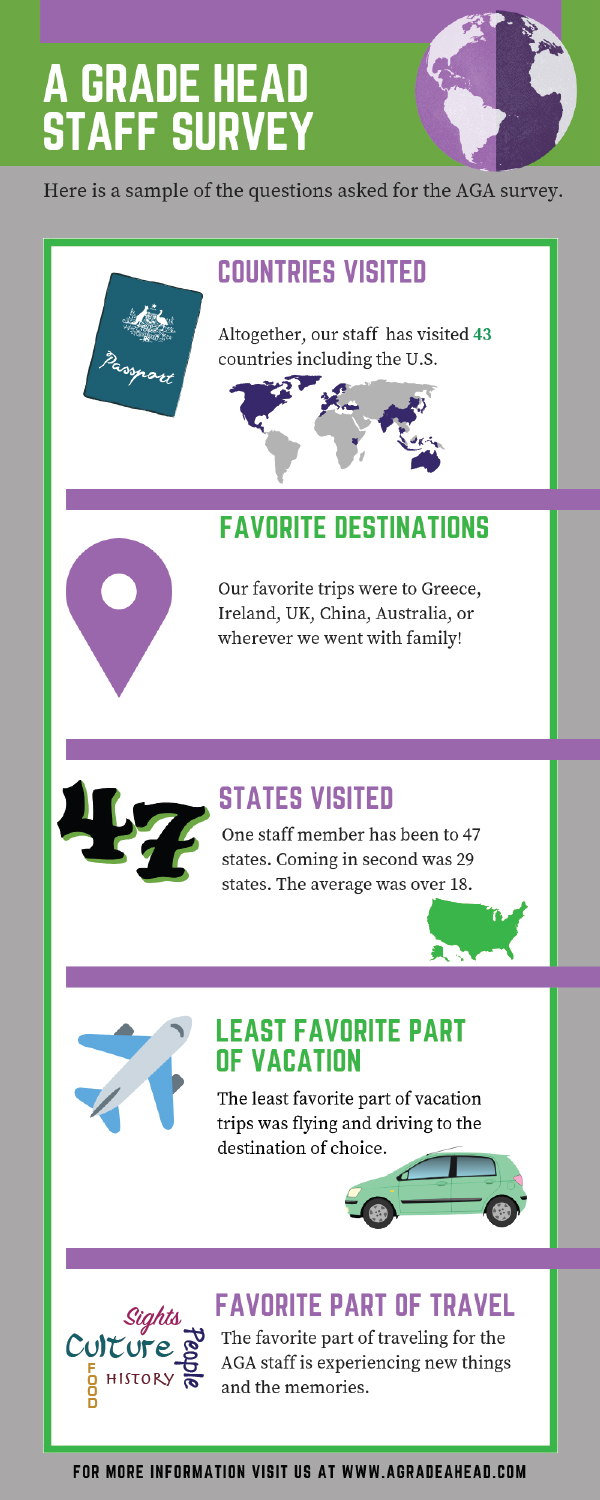 Growing up I would read books that would transfer me to different places around the world.  I could imagine what these place looked like in my mind.  We hear people tell us about the places they have been, and we long to see what they have seen. Many of us have yet to see the places we've dreamed about, but, I for one, believe that I will eventually see them.
We took a travel survey for our A Grade Ahead (AGA) staff and it was quite interesting seeing the answers to the questions as; How many states have you been to in the U.S.A.?  What countries have you been to?, What country or place did you enjoy the most? And many more.
How Many States Have You Been to in the U.S.A.?
The question, "How many states have you been to in the U.S.A.?" made it clear that many of the staff have made their way across this beautiful country.  The range of states visited were as high as 47 states to as low as 4.  There were a couple of people who have been to 28 states, one person has been to all of the states except, Oregon, Washington, and Alaska.  That is quite an accomplishment, considering how big this country is.
What Countries Have You Been To?
The next, and most obvious question asked for the survey was, "What countries have you been to?" The most popular destinations for the AGA staff were our neighbors to north, Canada as well as our neighbor to the south, Mexico.  Europe was high on the list of places visited too.  Countries such as France, Italy, Ireland, Scotland, England, Germany, Greece, and Switzerland.
The continent of Asia was well represented as places visited on the AGA list, as well.  Countries included were South Korea, China, Thailand, Japan, Singapore, India, and Indonesia. Other countries that were popular are Jamaica, Belize, Honduras, Guatemala, Spain, Austria, Sweden, Denmark, Norway, Iceland, Malta, and last, but not least, the continent of Australia.
What Is Your Favorite Part of Travel?
Not surprising, the most popular answer was food!  The authenticity of traditional cuisine that has been passed down through generations and is an expression of that country's cultural identity.
Learning about other cultures  was high on the list, and no doubt food was part of the culture as were the wonderful people who helped make traveling to the place memorable.  History and beauty were also mentioned as reason why we enjoyed visiting.
What Country or Place Did You Enjoy Visiting Most?
The top of the list for places visited was varied.  Greece was popular because of the architecture, scenic beauty, and weather.  Others favorite places included the Smoky Mountains, Santa Barbara, California, Amsterdam, Brussels, and Estonia.
Many of our top picks were chosen because of the beauty of the area, the great food, and the people involved.
What Was Your Favorite Trip as a Kid? Why?
"What was your favorite trip as a kid? Why?" gives us a glimpse into how important family trips were for the AGA staff and the memories that linger after many years.  When I was younger, family trips were an important part of my summer.  We would load our station wagon, now we would take an SUV, and head out to parts unknown. But the one destination that was memorable to me, as well as the AGA staff, is Florida.
One staff member went to the grand opening of Magic Kingdom in 1971 for his or her 6th birthday, others said Florida because of the "theme rides," and another comment said, Florida, the reason, "it was DISNEY WORLD!"
Other places popular to visit as a kid were Washington D.C. and Gettysburg, Pennsylvania, for the history; a skiing trip to Switzerland; and an iconic, 3 week trip in a station wagon out west.
Where Would Go if You Could? List Your Top 3
When asked, "Where would go if you could? List your top 3"  Italy and Ireland were the most popular, with Hawaii coming in a close second.  Much of Europe was mentioned as well as Russia, Vietnam, Spain, the Dominican Republic, and the Middle East.
What is Your Least Favorite Part of Traveling?
The least favorite part of travel, hands down, is flying, driving, and "getting there."  Lack of comfort, the stress of planning an agenda, and packing round out this question.
Traveling offers new experiences, whether it's seeing the country where you live, destinations you have never been, or old destinations that keep you going back again, and again. Travel can open your mind and can give you a sense of appreciation for other cultures , and most of all making lasting memories.
Where would you like to travel to? Why?  Please leave a comment, we would love to hear your perspective.
Author: Pam Crum, Lead Teacher at A Grade Ahead
---
Get Notified When New Articles Post
Sign up to receive one email per week from A Grade Ahead full of parenting tips and helpful articles. Enter your information on the right hand side of our Blog page and we will add you to our list of subscribers. We also welcome your feedback and comments on our posts!