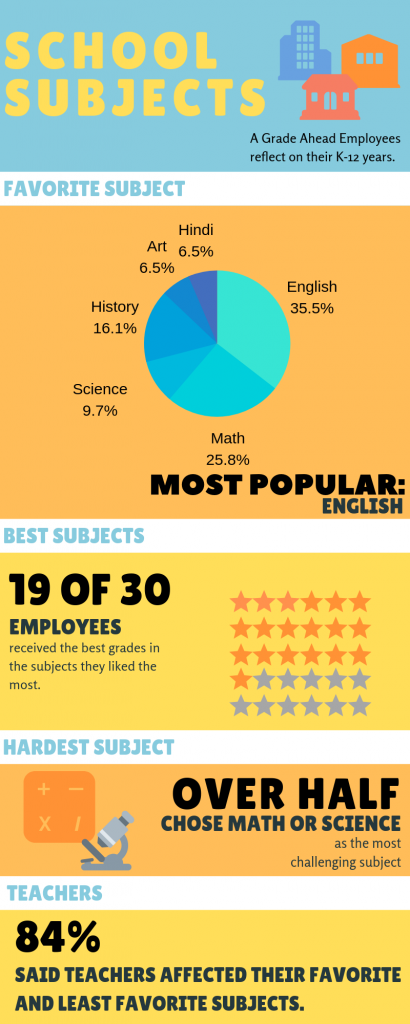 With the new A Grade Ahead school year right around the corner, we wanted to find out how our staff felt about certain school subjects when they were in school. The results were interesting, sometimes funny, and definitely brought back memories for all of us! Check out the results below.
What was your favorite school subject in K-12? Why?
Eleven people listed English as one of their favorite subjects. Our staff loves to write – which is good, because they do it a lot! Some of the reasons why were…
"I love to write."

"I love reading, and it came easily to me."
Math came in a close second with eight people listing it as a favorite. Here are some reasons:
"I enjoy the problem solving process."

"It is objective and always has an answer."
History was the next most popular, with five people. The history lovers had interesting responses, including these two:
"It's great to know where we've come from."

"I've always liked it because my grandpa taught us history when little."
Three of our staff members loved science, one specifically because of Bill Nye the Science Guy. And, finally, art and Hindi both received 2 votes each.
What school subject(s) did you do best at in K-12? Are they the same as your favorite subject?
Our employees did the best at their favorite subjects. 19 of 30 employees performed best in the subjects they liked the most!
What school subject(s) did you struggle at in K-12?
Math and science were the topics our staff struggled with the most. Nine of us chose science, six of us chose math, and four of us chose math and science.
One had a relatable anecdote about high school chemistry: "I was always jealous of the guy who sat next to me doodling while I took notes. He aced quizzes and tests without effort while I kind of struggled to get good grades in that class."
The humanities gave some of our staff some trouble, too. English was the next popular response, then history, with five and four votes respectively.  Two of our staff members struggled in no subjects (lucky them!) and one of them had trouble with geography.
What helped you improve at that subject?
We had some great answers on how our staff improved their grades in their classes. The most popular and effective answers were: hard work and/or practice! Check out more responses below.
For chemistry: "I studied, made note cards, re-read the books…"

For writing: "brainstorming and organization"  

"Studying!"

"Reading more and understanding how history has shaped our current state"

"My Grandma was a teacher."

"Staying after class and asking my teacher more questions"

"Actually asking for help when I struggled"

"Putting more hours into it"

"Working at A Grade Ahead!"
For more guidance on how to improve grades, check out A Grade Ahead's studying tips.
What school subjects did you have your best/worst teachers in?
Math was the most popular response for best and worst teachers!
For best teachers, math got ten responses. History came second at seven, science at six, English at five, languages (Spanish, Latin, and/or Hindi) at four, and art with one.
Our staff had the worst teachers in math and science, with each getting seven responses. It was followed with five votes for English.
Another fun response was, "Homeschooled, so… no comment."
Do they correspond to favorite/least favorite subjects?
For those that responded to this question, 21 people reported that the best and worst teachers corresponded to their favorite and least favorite subjects. Only four responded "no."
What class do you wish that your school had offered in K-12?
This question is where our staff got very creative!
The answer that occurred the most was classes on how to live outside of the K-12 world! Like these: "what to do after high school," "how to get healthy and stay healthy," "how to be a successful adult," "independent living (credit, rent, etc.)," and "financial literacy."
Many others wanted to learn languages including Spanish, Latin, and Mandarin (and many did, check out last month's survey!):
And others valued the arts and creative pursuits:
"I wish I had taken photography or pottery…"

"Music and art as real subjects"

"Drama/Theatre"
Other responses include engineering, sociology, organic chemistry, specialized lab/research-based science courses, geology, AP English, 4-H, debate, and more!  
What was your favorite subject in school? Did you use any of the same tactics as us to improve your grades? Let us know in the comments below!
Author: Brenna Waugaman, Writer and Teacher at A Grade Ahead
---
Get Notified When New Articles Post
Sign up to receive one email per week from A Grade Ahead full of parenting tips and helpful articles. Enter your information on the right hand side of our Blog page and we will add you to our list of subscribers. We also welcome your feedback and comments on our posts!