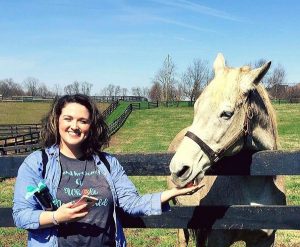 For this installment of the A Grade Ahead's Employee Spotlight Series, we'd like to introduce you to Emily Karth. Emily is A Grade Ahead's Program Coordinator. As a whiz with words and an attitude that can't be beat, she oversees the development and implementation of our educational programs. Emily has been with A Grade Ahead for about seven years and in her specific role for approximately eight months. She graduated with a Bachelor's degree in English from Wittenberg University in Springfield, Ohio.
As a key player in the development of our programs, we wanted to ask Emily a few questions! Check out her answers below.
Why did you choose that degree program?
I really enjoyed the challenge and knowledge I gained from my English classes, so I decided to focus solely on that area.
What is your favorite subject in school and why?
When I was in school, I enjoyed English (as I'm sure you can guess!) but I also really liked science.
What is your favorite children's book?
This is tough! I have so many. A few I enjoy are the Harry Potter series by J.K. Rowling, The Giving Tree by Shel Silverstein, and There's a Monster at the End of this Book written by Jon Stone and illustrated by Michael Smollin.
What would you like to do most in the future? (Either professionally or personally)
I would love to travel more and see the world.
If you could go anywhere, where would you go?
My favorite place in the world to travel is the Amalfi Coast in Italy. I would love to be able to go there any time I want!
What do you like to do for fun?
I recently learned to crochet, so I enjoy doing that in my spare time, but I also have 3 dogs who get a lot of my attention when I'm not at work. They are the best!
What is your favorite holiday? Why?
I love Christmas because I enjoy the decorations, music, and making memories with family.
What is the best advice for students who want to excel in school?
Try your best, and don't sweat the small stuff. Put your energy into subjects you enjoy.
You can check out some of Emily's hard work by exploring our programs and learn more about our staff here. What else do you want to know about A Grade Ahead staff in our next employee spotlight series post? Let us know in the comments below!
Author: Brenna Waugaman, Writer and Blog Coordinator at A Grade Ahead
---
Get Notified When New Articles Post
Sign up to receive one email per week from A Grade Ahead full of parenting tips and helpful articles. Enter your information on the right hand side of our Blog page and we will add you to our list of subscribers. We also welcome your feedback and comments on our posts!