The month of April likely represents the start of the spring season for many. It also probably brings to mind the phrase, "April showers bring May flowers." This line of verse may put you in a poetic mood, and for good reason: April is national poetry month!
At A Grade Ahead, we like to take any opportunity to celebrate, especially one that aligns with our focus on educational enrichment. With that, I present to you a list of recommendations for poetry collections for children, so that you and your family can join in the fun of celebrating this creative month of the year!
Seven Poetry Collection Recommendations for Children
   Be Glad Your Nose Is On Your Face: And Other Poems: Some of the Best of Jack Prelutsky by Jack Prelutsky
    Cast Away: Poems for Our Time by Naomi Shihab Nye
     A Child's Garden of Verses by Robert Louis Stevenson
    Joyful Noise: Poems for Two Voices by Paul Fleischman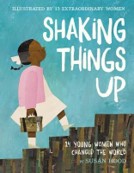 Shaking Things Up: 14 Young Women Who Changed the World by Susan Hood
     Where the Sidewalk Ends, A Light in the Attic, and Falling Up: Poetry Collections by Shel Silverstein
Does your child need more poetry in their life? A Grade Ahead offers after school enrichment English classes for grades kindergarten-high school. In these classes, comprehension topics are covered on a weekly basis. Grades 3-7 even offer specific months each year devoted to studying poetry and its features! Sign up or take a free assessment today!
What do you think? Do you and your child enjoy reading poetry? What are some of your favorite poems or poets? We would love to hear from you in the comments!
Author: Emily Karth, Curriculum Manager at A Grade Ahead