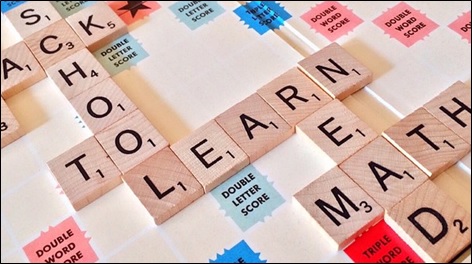 As we have discussed on this blog many times, English is hard! We spend a lot of time discussing tips and tricks, writing strategies and grammar skills – the list goes on and on. And that's great! But sometimes it's nice to sit back, relax, and play a game. That being said, why not throw in a little English practice while you're at it? I promise you – and your kids – will be having so much fun you won't even notice you are learning.
Excitement with a Side of English Practice:
8 Educational Board Games
Recommended Age: 8-15 years
Number of Players: 2+
In this hilarious game, draw an obscure word from the dictionary and write a definition. The goal is to convince everyone else that your made-up definition is the true definition. This is a great game for practicing parts of speech and writing fluency.
Recommended Age: 7+
Number of Players: 1-8
In this game, each player draws letter tiles, and then the race is on to see which player is the first to create a word grid (similar to a crossword puzzle or scrabble board) using all of their letters. This becomes more difficult as you add tiles as you go along. This is the perfect game for people looking to build or recall vocabulary. It's also great for learning new words!
Recommended Age: 8+
Number of Players: 4+
In this hilarious, fast-paced game, get your teammates to guess a word before time runs out. Seems easy, right? Not so easy when the time is ticking and you cannot say any part of the word in your clues! This is the perfect game for "outside-the-box" thinking. It can also be played practically anywhere, thanks to the easily-portable game piece.
Recommended Age: 8+
Number of Players: 2-6
Once Upon a Time is a refreshing game for the less competitive, more creative sorts. There is no "winner;" rather, the prize comes through the journey of the game itself. In this board game, use your story cards to narrate your very own, original story that works toward your ending card! This is a game that is great at encouraging creative thinking and story-telling.
Recommended Age: 12+
Number of Players: 2-6 (players or teams)
Back to the fast-paced games, in Scattergories, roll a letter, pick up a category card, and race the timer to find an object that fits every category on the sheet that begins with the letter you rolled. This is the perfect game for practicing categorization and thinking beyond the obvious.
Recommended Age: 8+
Number of Players: 2-4
Though this classic game probably needs little introduction, it does perfectly fit this post. Challenge your friends to see who has the most expansive vocabulary! Make the best use of your letter tiles (including those pesky z's and q's) and score spaces. This game rewards both strategy and those who know the most words. It's great for vocabulary building.
Recommended Age: 13+
Number of Players: 4+
This game is similar to Catchphrase but with an added challenge. Race the timer to get your teammates to guess words and phrases; however, not only can you not use any parts of the words themselves in your clues, but you also cannot use any of the "taboo" words. If catchphrase isn't enough for you, definitely check out Taboo. It's perfect for continuing to work on descriptions that go beyond the expected.
Recommended Age: 10+
Number of Players: 2-4
Do you love Scrabble but need an extra challenge? Upwords is for you! This game is played very similarly to Scrabble, but players have the ability to stack letter tiles in order to change the words. For example, maybe someone has played the word "mark." You could stack a "t" on top of the "k" to make the word "mart." This is a great game for working on not only vocabulary, but also for working on spelling and word relationships.
What do you think? What is your family's favorite board game for English practice? Have you played any of the games on this list? Do you have any recommendations to add? We would love to hear from you in the comments!
Author: Emily Karth, Writer and Teacher at A Grade Ahead