As the school year comes to a close, you might be wondering how to keep your child's mind busy this summer. Your child might even have come home with a reading log to complete over the summer. While some kids absolutely love to read and can sit down to read any genre, some kids need a book that really grabs their attention in order to stay interested. We've compiled a list of books for kids and teens to help you find a book that gets your child reading this summer!
Summer Reading Recommendation for 4-7 Year-Olds
At this age, kids are learning to read and will likely need assistance. We've found three great books for summer reading that you can read with your child or that your child may read to you. If your child is struggling with reading, consider signing them up for an enrichment program like A Grade Ahead, which has a curriculum meant to inspire and uplift kids.
Gibberish by Young Vo follows Dat, a young boy who is having trouble learning English after making a long journey to his new home with his Mah. He is the new kid at school, and everything he hears sounds like gibberish to him. In the midst of his struggles on his first day, a girl in his class offers him friendship and, most importantly, hope.
The Artist by Ed Vere showcases an artist who is determined to bring color to their gray city despite setbacks and challenges. This illustrated book will surely encourage kids to share their creativity with the world. This story of positivity will inspire your young artist.
Under the Blanket Sky by Tim Fischer is a picture book filled with lyrical language. A boy's loneliness comes to an end when he meets an owl who instantly becomes his friend. After a summer of companionship, the owl must carry on with its journey, and the boy must confront the inevitable: time passing and loved ones leaving us. With beautiful illustrations, this book encourages kids to find comfort in those changes.
Summer Reading Recommendation for 8-12 Year-Olds
For this age level, many of our summer reading recommendations are longer. Some children may be able to read these independently, but some children may require some assistance still. Regardless, one of these books below might just encourage them to read more or keep reading.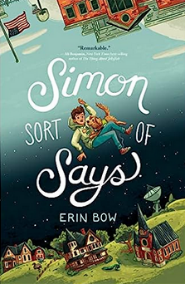 Simon Sort of Says by Erin Bow is a 320-page book that explores the resilience of Simon O'Keeffe. After surviving gun violence in his elementary school, Simon finds himself grappling with the constant media attention. A couple of years after the harrowing event, Simon's family moves to the "National Quiet Zone." America does not allow the internet in this one area. Simon meets a new person who wants to prove that aliens exist. He also finds the strength to take steps to move forward while recovering from trauma. Despite the heaviness of the Simon's past, the writing offers enough humor and eccentric characters to keep your children laughing.
The Swifts: A Dictionary of Scoundrels by Beth Lincoln (writer) and Claire Powell (illustrator) is a 352-page illustrated book filled with suspense and humor. In the family of Shenanigan Swift, the Family Dictionary decides the name and definition of every new baby. When her Arch-Aunt Schadenfreude meets an untimely fate at the hands of someone in the Swift family, Shenanigan is intent on uncovering the killer despite her perceived destiny as a troublemaker.
Elf Dog and Owl Head by M.T. Anderson (writer) and Junyi Wu (illustrator) is a 240-page book that follows Clay, a young boy faced with extreme changes in lifestyle after a worldwide plague rattles his entire life. With the assistance of a mysterious dog apparition named Elphinore, Clay finds himself adventuring in a nearby forest that contains both the fantastic and the unsettling. If your child found it hard (or is still finding it hard) to adjust to the ever-changing expectations of a pandemic, they just might find comfort in Clay's tale.
Summer Reading Recommendations for 13+
Many teens find themselves reading classics for school, which are worthwhile – they're classics for a reason! In fact, the A Grade Ahead high-school English curriculum has a ton of enthralling, classic short stories and book excerpts. While newer, these summer reading recommendations for teens below will entertain your kids while encouraging them to think critically about the world around them.
I Must Betray You by Ruta Sepetys follows a seventeen-year-old, Cristian, whose dreams of being a writer are suffocating beneath communist dictatorship in 1989 Romania. The secret police soon blackmail Cristian to become a spy, but he uses his situation to help the revolution. This 336-page historical fiction novel illuminates the dark realities of a sometimes forgotten past through thrilling, poignant storytelling that is sure to keep your teens interested.
The Grimoire of Grave Fates created by Hanna Alkaf and Margaret Owen is a thriller with hints of magic that is told through diverse perspectives. At the Galileo Academy for the Extraordinary, 18 students find themselves rushing to solve the murder of the Professor of Magical History. With that many points of view, your teen will surely find a character who resonates with them.
Imposter Syndrome and Other Confessions of Alejandra Kim by Patricia Park shows the multicultural title character trying to navigate her different subcultures between Queens and Manhattan. Senior year brings unique challenges, beyond finding a place to belong next year, as Alejandra deals with her own grief, and her mother's grief, after the passing of her father.
We hope this list helped you find a new book to tackle your child's 2023 summer reading plan. If you feel like your child needs some extra stimulation beyond these books, try an enrichment program. With A Grade Ahead's curriculum, your Pre-K to High School child's brain will stay in tip-top shape over the summer. We offer in-person or online classes to accompany homework.
What books are your children reading? Let us know in the comments below!
Author: Brenna Waugaman, Curriculum Coordinator at A Grade Ahead